Phonak Roger Dynamic School SoundField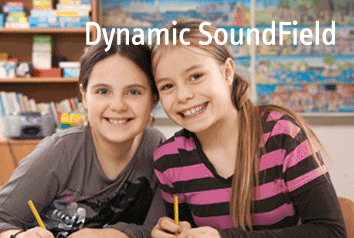 For the best possible learning experience children must be able to hear the teacher's voice clearly in class, but unfortunately this is not always possible. Factors such as classroom noise, the distance between teacher and students, and challenging classroom acoustics can make understanding the teacher difficult, even for children with normal hearing.

For teachers meanwhile, noisy classrooms mean raising the voice to be heard, which in turn often leads to vocal hoarseness, pain and in the case of temporary voice loss, time off work.

These reasons are why soundfield technology was born - to clearly amplify the teacher's voice and, in doing so, help students to hear and understand directions more easily. This in turn leads to improved student performance.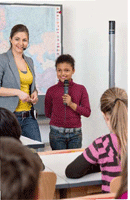 System components
At its core the Dynamic SoundField system comprises the DigiMaster 5000 loudspeaker unit and Phonak's inspiro teacher transmitter microphone.

Up to 6 additional transmitters (either Roger inspiro or Roger DynaMic passaround mics) can also be used alongside the first inspiro to widen the discussion, while the DigiMaster loudspeaker can be positioned on its sturdy floor stand or wall-mounted.
Existing Phonak inspiro users can upgrade their transmitters to full Dynamic SoundField functionality.

Features:
'Line source' loudspeaker unit- The DigiMaster 5000's 12-loudspeaker 'array' offers high directionality and reduces reverberation. It covers a large area with a clean, high-quality signal, using just one loudspeaker per class, to help students comfortably hear target speech wherever they are sat.
Fully automated settings - Dynamic SoundField removes potential teacher confusion by continually monitoring and automatically adjusting its frequency settings and volume levels. By measuring the room's actual noise level, and optimizing its own settings, Dynamic SoundField provides optimal Signal to Noise Ratios (SNRs) – integrating the acoustical expertise previously found only in textbooks into the world's first intelligent soundfield product anyone can use. Just plug in, turn on and teach.
Exclusive built-in FM compatibility - Dynamic SoundField's inspiro transmitter can be used to broadcast in Dynamic SoundField mode, Dynamic FM mode (for hearing impaired listeners), or Phonak's exclusive combined Dynamic SoundField & Dynamic FM mode. This 3-mode approach is exclusive to Dynamic SoundField. 
Intelligent frequency hopping - An ingenious new way of automatic hopping frequencies eliminates interference issues, allowing Dynamic Soundfield to happily co-exist alongside a school's WiFi and Bluetooth networks. Classrooms do not need allocating a particular channel, pairing is easy, and there is usually no limit to the number of Dynamic SoundField systems that can be installed in one school building. 
Reassuringly future-proof - Dynamic SoundField is 100% future-ready. Both the inspiro transmitter and the loudspeaker unit feature USB connectors, through which firmware updates can be downloaded via an internet-connected PC. This ensures users benefit from new features as soon as they are released.

The Phonak Dynamic SoundField system has been designed for use in classrooms with a maximum size of 8 x 10m (24 x 30ft)